LUSH Honey Trap Lip Balm
(£4.99 - LUSH)
Vaseline Rosy Lips
(£1.93 - Boots)
AVON Moisture Seduction Lipstick
(In pout, £6.00 - Avon)
Soap and Glory Sexy Mother Pucker
(In Plum Juice, £8.43 - Boots)
Natural Collection Juicy Lips Lipgloss
(In Barley Sugar, £1.99 - Boots)
So, not long ago I went through an incurable phase of lip-product-addiction!
Right now I've moved onto eyes.. (another post coming soon!)
But through that phase I gathered up countless amounts of lip products - from balms, to sticks, to liners, to gloss. Each and every item I love to bits, but I felt some needed a special mention!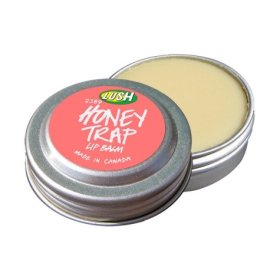 I'll start with
LUSH Honey Trap Lip Balm
. This was actually a recent buy (since being cured!!) I went into LUSH with the intention of just buying a couple of bath bits, but I have a love/hate relationship with the staff in there - they are so nice that I end up spending money on things I TOLD myself I wouldn't!
It's quite expensive for the small amount you get, but it really does have the quality to justify it.
- It is so moisturising, my lips felt soft and smooth within 2 or 3 applications through the course of one day.
- It smells lovely, an almost healthy smell?
- It's travel size, perfect for chucking in your bag for a day at work/uni
Secondly!
Vaseline Rosy Lips
. It truly is a classic, a key beauty essential. I've been using Vaseline for years to keep my lips soft through the winter months. I love that they've progressed and brought out Rosy Lips, it's a lovely spin on the traditional Vaseline.
- A lovely smell and tint
- BARGAIN!
- Guaranteed to improve the look and health of your lips!
AVON Moisture Seduction Lipstick
. To define this lipstick in one word is 'pretty'. It's a really feminine pink for any spring look.
It really does make your lips feel soft while your wearing it, so much so that I end up rubbing my lips together so much that it comes off!
I really hate that AVON is so underrated, their products never fail to perform. They are reasonably priced and new products are regularly available to keep you on your toes :)!
- Lovely colour
- Feels really soft
- Well priced
Now for the incredible
Soap and Glory Sexy Mother Pucker
! It really is a star amongst the plumping lip glosses out there. I know it's not always the most important but I do love the packaging, I feel quite proud when I get to the till and hand over my Soap and Glory products! They are so fancy-but-fun!!
The colour is a kind of sexy-yet-subtle red. The tingling sensation lasts for around 15 minutes, and I really do notice a difference when I use it. I have fairly thin lips and after I've put this on I feel like pouting all the time!
A must-have for Valentine's this year.
- Makes you feel sexy!
- Actually works
- GORGEOUS chocolate fragrance
And last but not least -
Natural Collection Juicy Lips Lipgloss
. As a student, I'm always on the look out for cheap products that still have fantastic quality. For £1.99 there is no reason why you shouldn't have this product.
It's a really girly gloss - a pretty pink, packed full of glitter and shimmer. It smells amazing, a touch of vanilla with sugary scents.
It works well on top of pink lipsticks. Its not too sticky as some cheap glosses can be, and is durable!
- Girly and flirty colour
- Non-sticky, durable
- another bargain!!!
Yet another blog which is double the length I predicted! Thank you for sticking with me haha
More posts soon, I'm really enjoying sharing my views with you all, feel free to let me know your views too :)
Phoebe x